The Union of Charitable Societies – Jerusalem (UCS)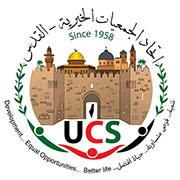 The Union of Charitable Societies-Jerusalem (UCS) is the first Palestinian non-profit and independent union of non-governmental charitable and development societies that was established in Jerusalem in 1958. (UCS) strives to build an effective Palestinian civil society through advancing the Palestinian civil work in an institutionalized and democratic manner and according to the principles of good governance and accountability in order to contribute to the national development and stainable development. About 150 local NGOs/CBOs are members in the UCS and operating in various developmental, social and humanitarian fields.
UCS aims mainly at empowering the civil society organizations, developing their resources and advocating for their rights and causes. It also strives for supporting sectoral development priorities in the fields of social welfare, poverty reduction, health, education, childhood, women and youth empowerment, integration of the disabled people, elderly care, human development and demographic planning.