The Union of Charitable Societies – Jerusalem (UCS)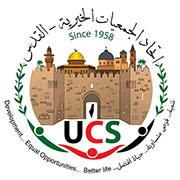 A national union leading civil society organizations and working to improve the capacities and services of its member societies to enable them to improve Palestinian livelihoods and contribute towards achieving sustainable development. Throughout the years, UCS has developed considerable experience servicing the educational sector and the health sectors in East Jerusalem.
Charitable Societies Development: Improved the infrastructure and institutional readiness to 20 NGO's CBO's in Jerusalem, Ramallah, Jericho and Bethlehem.
The network of modern and prototype kindergartens in Jerusalem: Increased access of 1000 children aged (2-5 years) to modern and friendly-child learning approaches and environment in 10 kindergartens in Jerusalem.
Supporting the childhood sector in Jerusalem: Improved the quality of education and the infrastructure of KGs in Jerusalem.